The Dark Side Of Innovation
Why do Successful Companies fail?
Thriving In The Age of Disruption
Download first chapter of my book: The Dark Side of Innovation
Turbocharge your career with the power of disruption
The Essential Guide to Thriving in The Age Of Disruption
Builds Deep Knowledge of Disruption
Firms are more likely to be disrupted due to cognitive biases of managers than due to lack of technology. Learn how cognitive biases lead to disruption.
Powerful tools to predict and respond to disruption
Today, you need to prepare before disruptive forces touch your business. You need to predict disruption and be ready. Get the tools to predict disruption.
Design Innovations to disrupt your market
Learn the four critical forces that lead to disruption in any industry. Master these forces to design innovations that can disrupt.
Fascinating stories of firms that survived disruption
How did Kodak go from 80% market share to bankruptcy? How did disruptive forces eliminate half the Swiss watchmakers in 10 years?
Over 25 responses to disruptive forces
Not all firms who face disruptive forces die. Learn the strategies that firms used to survive disruptive forces. Let these 25 strategies inspire you to create your own innovations.
A comprehensive process to manage disruption
In the age of disruption, every firm needs to manage disruption. You need knowledge, tool and a process to do that. Find them all in one place.
The Dark Side of Innovation Implementation Guide
Go beyond the book by using extensive resources provided here.

The Dark Side of Innovation – Implementation Guide
The Implementation Guide is the essential companion to the Dark Side of Innovation. Designed as an easy to use workbook, the implementation guide allows you and your team to create a comprehensive strategy and action to maximize the value of your innovation program and ensure that you do not fall prey to the Dark Side of Innovation. With over 80 pages of tools, tips and tricks, this is a must-have for implementing the lessons of The Dark Side Of Innovation.
The implementation guide comes free with training and advisory programs to implement the strategic anticipation and response framework.
Work with me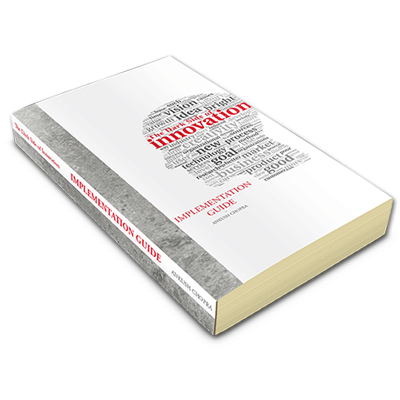 Discover how will The Dark Side of Innovation help you in your role
Book Charts & Diagrams
You can download all the charts and diagrams used in the book. Whether you want to print them for discussions in a meeting or want to carefully look at them beyond what the kindle version allows you to, you can download and print these here.
Download first chapter of my book: The Dark Side of Innovation
Turbocharge your career with the power of disruption
Bonus Tools
Assessment Tool
The assessment tool asks you to fill out a short questionnaire and based on your answers provides you an assessment of your needs. It will help you understand what kind of benefit you will get from the Strategic Anticipation and Response Model™. It will assess how urgently you needs the model. Most importantly, it will help you diagnose whether there is a missing arrow in your strategic arsenal.
FAQ
The Frequently Asked Questions document provides you the answers to common questions that you may be asking after reading the book. If you have a question that has not been answered pleased contact me and I will add the answer to this document.
Jack and Zollo story
The opening story of the book where Jack meets Zollo was a longer and more complex story in my first draft. In fact the book opened and closed with this story. However, as I revised the book over subsequent drafts the story was shortened and eventually condensed to a very short story. I also removed the end of the book part of the story.
I really enjoyed the story but made the hard decision to remove it eventually. See what the story was:
Book End Materials
If you bought the Kindle edition of The Dark Side Of Innovation and wanted to have the paperback book's Index and Bibliography, you can download the files from these links:
How to apply these learnings in your industry?
What others are saying
Overall great read and will fuel your drive towards make or break innovation and your companies survival.
Robert Brands
Amazon Reviewer
You have tapped into some very interesting insights. Your book is also very rich in examples which help to really strengthen your message. You provide compelling evidence that should be a wake-up call in many contexts.
Paul Geoffrey Jeremaes
HP Innovation Centers
This book is perfect for a workshop every company should do once every 2-3 years, if not more often.
Prof. Abhijit Guha
Assistant Professor of Marketing
Wayne State University
Disruptive innovations are going at businesses at an ever faster rate. Prof. Chopra's book will serve as a lighthouse in stormy seas for business leaders across the industry spectrum. An easy read, equal in incisive thought and real-world examples. A great investment of my time.
Jaideep Mehta
Vice President and Country General Manager, IDC
Chopra has produced an 'owner's manual' for addressing disruption. A must read!
Len Schlesinger
President Emeritus-Babson College
formerly COO of Limited Brand
Professor Chopra provides a practical process on how to deal with disruptive innovation, and even how to thrive in the face of such dramatic change. Ignore the lessons at your own peril!
Peter Corijn
Vice President P&G
This book puts things in perspective and the perspective is startling!
Grady Harp
Amazon Hall Of Fame Reviewer