This last episode of the season titled "Becoming a Strategist" focuses on the strategy process. Until now, in the last eleven episodes of this season, we discussed strategic thinking skills and strategic absorptive capacity. We complete this season by adding the last of the three key tools that every strategist needs.
What is a Strategy Process?
A strategy process is just a set of steps a company undertakes to design and execute strategy in a reliable and predictable manner. The process often involves dozens and sometimes hundreds of people bringing together data on different aspects of the business landscape as well as the project status of strategy projects.  Such information, data, and analysis provide the needed input for a strategist to make the appropriate strategic decisions.
The Strategist and the Strategy Process
A strategy process does not replace a strategist but complements him. It allows the strategist to delegate a large part of the strategy work and focus on the most critical decision making tasks. Furthermore, such a process trains many managers to become a more effective strategist. As a result, the process helps build a deep strategy bench in a company. This episode explains how such a process works in reality.
The Strategy Model
Deep within a strategy process is a model. Such a model helps the organization conceptualize the world and strategic choices in an easy way. It helps people use the same language of strategy and use the same perspective. There are dozens and scores of models for business policy, and they all have slight differences in what they emphasize. Nevertheless, all strategy models need to help firms make the same set of core choices eventually. These choices are how to create value, how to deliver value and how to capture value. I share two critical models of the strategy process.
A Major Drawback of Most Strategy Processes
I have found that the strategy process of most companies suffer form a major drawback. This drawback is that firms often use a single stage process.  Such a process does an excellent job for the enterprise but is limited in scope and effectiveness to the current environmental conditions. When the industry changes, such a strategy model often becomes ineffective. At such times, firms that rely on a single stage process, end up struggling in the market.
Overcoming Drawbacks of The Strategy Process
To help overcome the limitations of a single stage strategy process, I developed a meta-strategy model that companies need to use in addition to the core strategy process. I go into some detail on this model that appeared in my book the dark side of innovation. I refer to this picture of the meta strategy model in the podcast.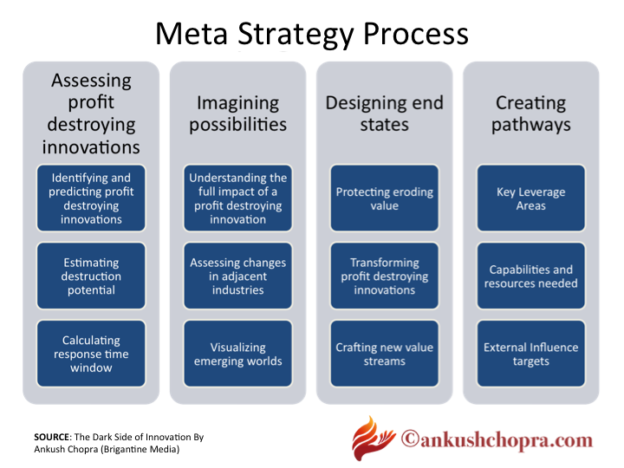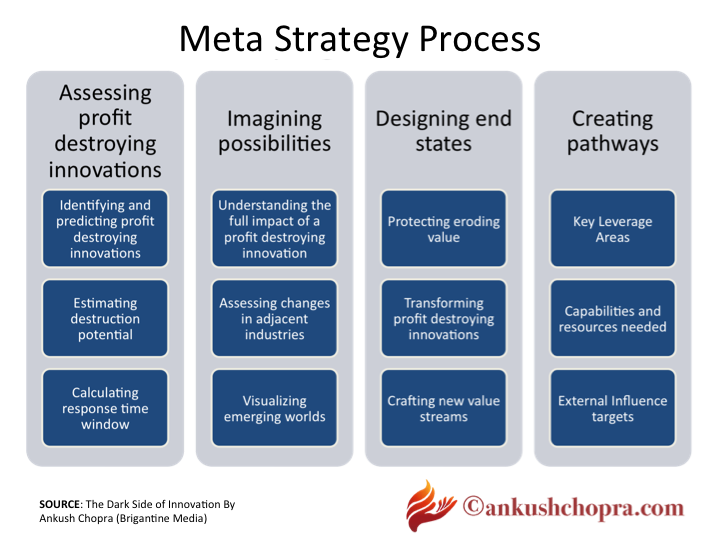 Key Takeaways
The core takes ways from this week's episode are as follows:
What is a strategy process and what does it look like?
Why do most firms need a robust strategy process?
What are some examples of a strategy process in action?
What skills are needed in the front end and the back end of the strategy process?
How to overcome the limitations of a single stage strategy process by adding a meta strategy process to your arsenal?
How to Listen?
This audio is now available as a part of a complete online strategy program called Becoming a Strategist. You can listen to it in the course here