You may have heard "this is a great business!" or "this is a really tough business to be in". These refer to the fact that some businesses allow you to make a lot more money than others do. This difference in industry profitability is indeed structural.
This quick bite poster shows you the five forces that determine an industry structure and thus the profits in that industry. Although this knowledge comes from Industrial Organization Economics, it was synthesized beautifully by Micheal Porter in his landmark book Competitive Strategy.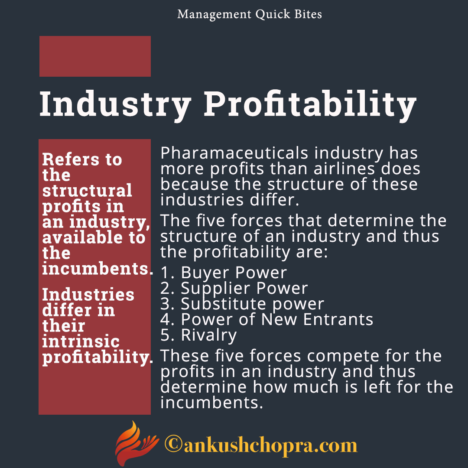 How to Use Quick Bite Posters?
Each quick bite poster gives you access to a concept in business so that you can learn or refresh it within 15 seconds. If you are a business pro, use the quick bite as a prompt for your current problems. That may be an excellent way to use the concept that you already know. If you are learning about business, add this important concept to your toolkit.
Prompts for Industry Profitability
In your industry, do you understand each of the five forces? Which one has traditionally determined the profits more than the other four? Most importantly, is the power of the five forces stable or changing? Is your industry becoming more or less profitable? How is your company dealing with this changing industry structure?